Life insurance is one of the most dynamic financial categories, with an estimated industry value of  $766 billion. As digital life insurance becomes even more relevant thanks to sophisticated underwriting and forward-thinking strategy, the opportunities in life insurance become even more appealing. It mimics digital banking in that way. It might not come as a surprise in today's digital age, but over 75% of people who bank do so online. By 2025, that number could rise to 80%, which accounts for almost 220 million Americans.
As the digital space becomes more important—and more competitive—it's imperative that financial institutions provide their customers with options beyond traditional banking functions for customer acquisition and retention. 
A recent brand survey captured that of the participants polled, almost 50% would prefer to buy life insurance through their bank or credit union.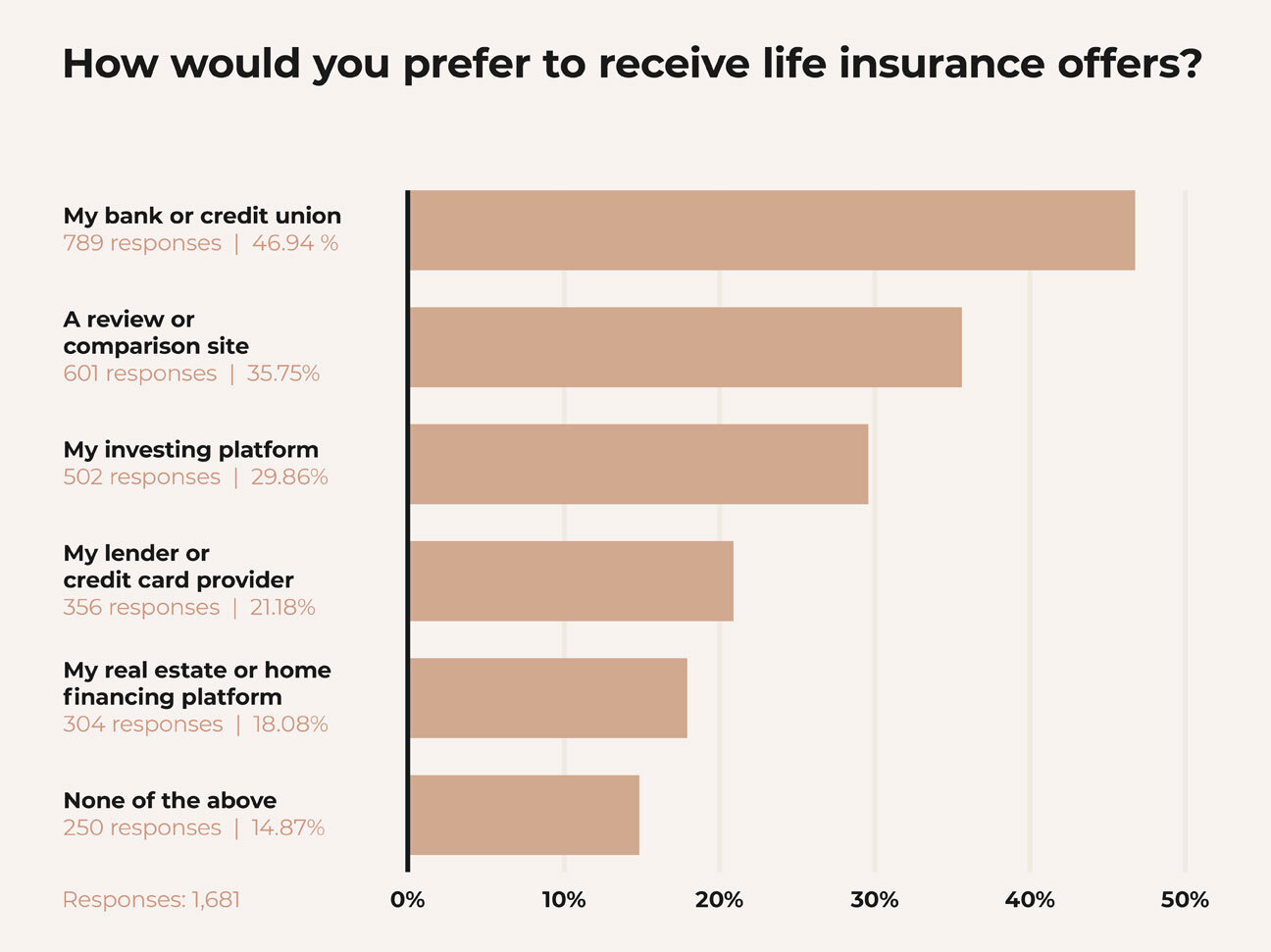 Nowadays, consumers are more comfortable with the technology associated with online transactions. (Over ¾ of millennials use their phone for banking transactions). They're also looking to brush up on their personal finance knowledge in general, proven by the enormous amount of content being produced on social media apps like TikTok, where the hashtag #personalfinance reaches into the billions. 
This appetite includes a heightened awareness of life insurance, with six in 10 consumers reporting having knowledge of the importance of life insurance. However, 106 million Americans still remain uninsured or underinsured, demonstrating a gap between knowing life insurance is essential and actually purchasing it. 
By making life insurance accessible through financial institution partnerships, one barrier—the perceived complexity and hassle of getting life insurance—can be removed. Digital markets are often winner-take-all markets; customers are more likely to flock to providers who can provide them the most value, including services beyond banking. Consumers prefer trusted, one-stop shops for all their financial needs. 
Digital life insurance relies on the technology it has access to, and with each technological advance, such as healthtech device data or the ability to seamlessly integrate into a partner website via APIs,  the entire process becomes even smoother on the user's side. This allows consumers to make decisions more quickly, and in turn reach even more customers. 
On the financial institution side, it brings in non-interest income, allowing for a diversification of revenue. Life insurance is a long-term engagement product that can increase customer stickiness and deepen the relationship, both of which are important to stay competitive. 
Most Americans know the importance of life insurance but haven't taken steps to insure their family against potential tragedy. The mission of getting more families covered faster—and on their terms—can be achieved through smart financial institution partnerships. 
Curious to learn more? Email us at bd@ladderlife.com to see how partnering with Ladder can benefit your organization.